MALNUTRITION REHABILITATION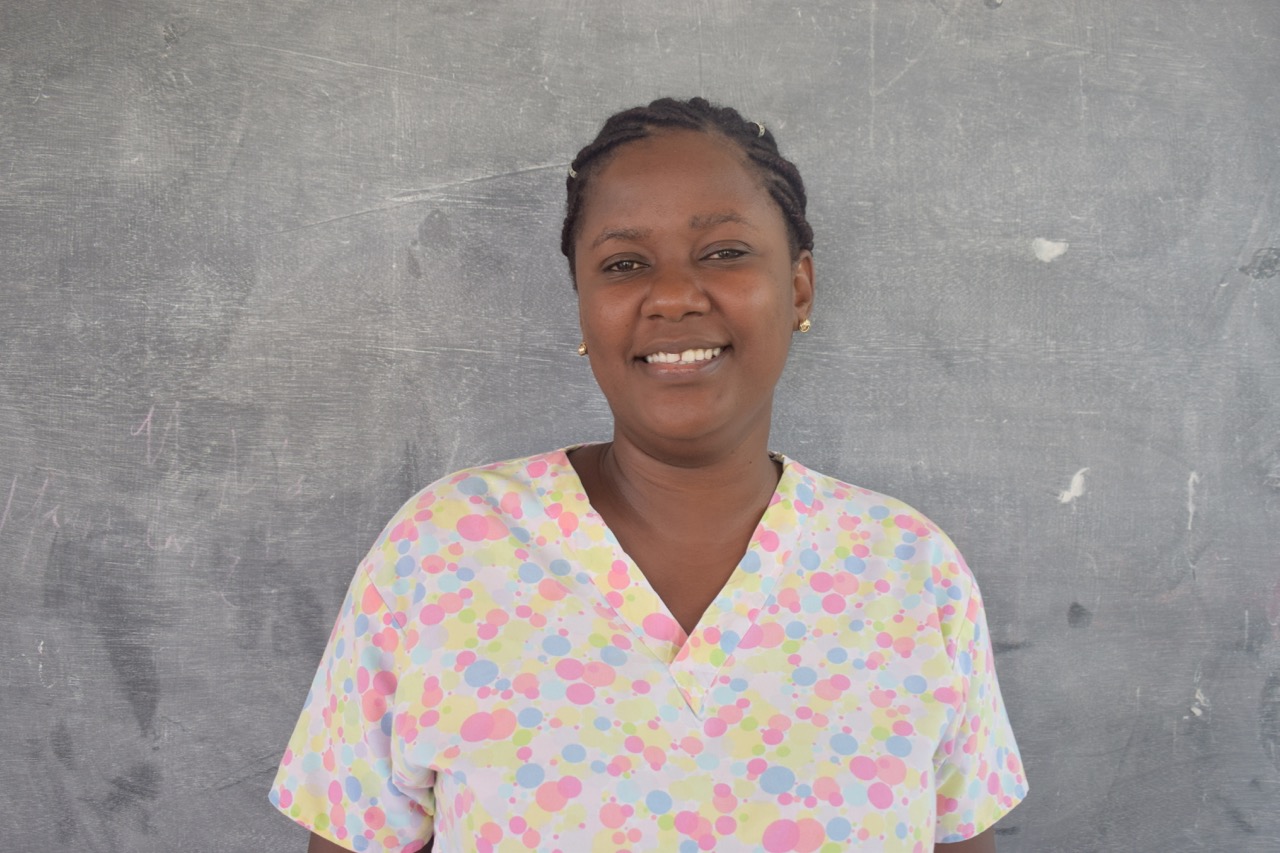 Anne-Rose Raphael -
Nurse
Anne Rose graduated from nursing school in Fort Liberte in 2015 with the goal of working with kids. She began work with Catholic Relief Services as a community health nurse, and then transitioned to the government hospital of Fort Liberte working in the pediatric department. She joined the Second Mile team in 2017, and loves seeing how her work positively impacts families. As a nurse, she sees children at their very sickest point when they are admitted, but then gets to visit them when they are healthy and living back at home after discharge. Alleviating poverty is something she is passionate about, and appreciates that, at the malnutrition recovery center, she is given the opportunity to invest in the health and wellbeing of children and families.
Kerline Dorcely -
Rehabilitation Program Manager
Ms. Kerline is most often seen working with a group of kids at the malnutrition center while their Moms are participating in educational sessions. She has a health background, and has worked in local communities and hospitals as an educator. Her connection to SMH came when she first met SMH's co-founder Amy through her job at the Caris Foundation. Her first role at the center was an educator, and she has advanced to the position of Program Manager. Her favorite thing about her job is that she gets to watch kids evolve and grow from when they first arrive in crisis to when they head home healthy.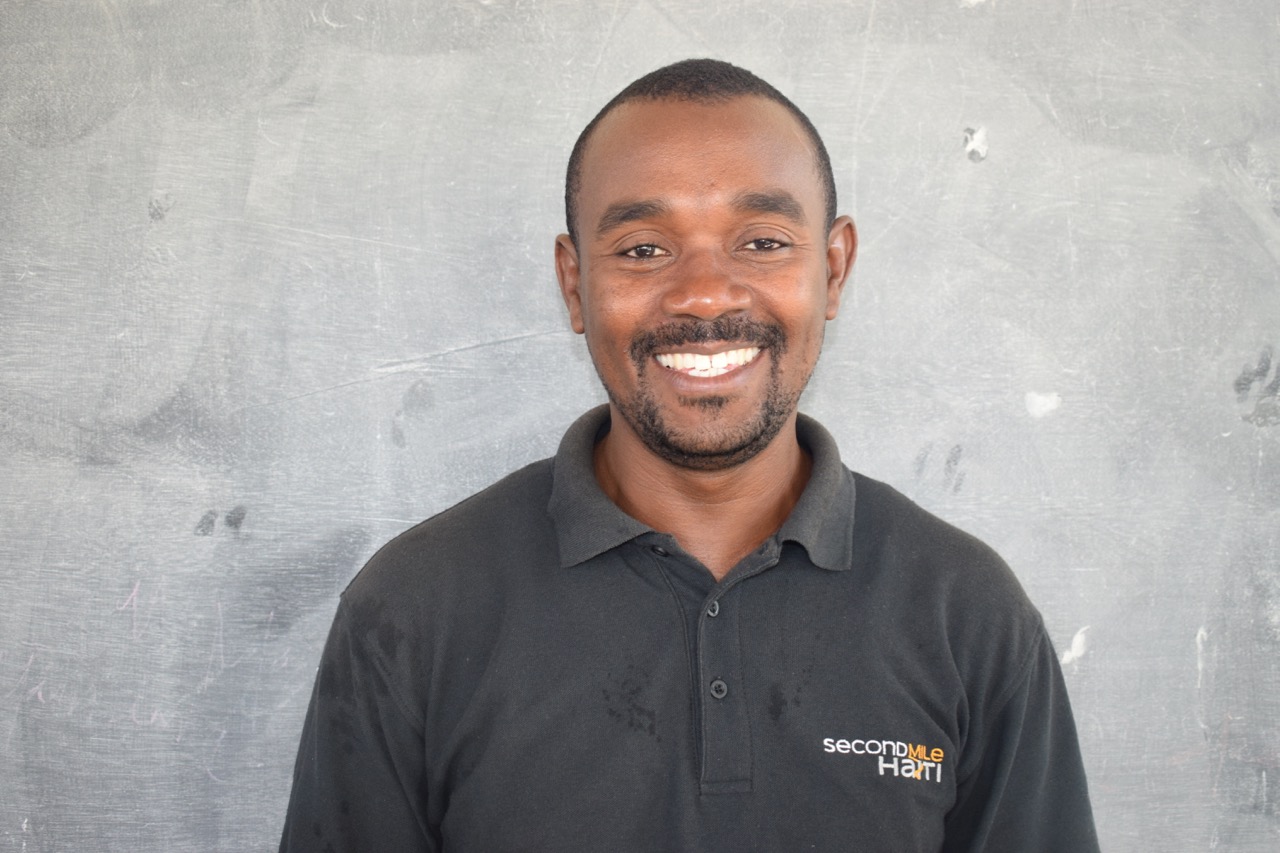 Louino Saint Germain -
Lead Psychologist and Community Liason
Louino has been a key part of the education and psychological support staff of Second Mile since 2016. He received his original training as a psychologist in Port-au-Prince, but has extensive experience, having worked with organizations such as Catholic Medical Mission Board, AIDS Relief, Caris Foundation, and Gheskio. While originally from Jacmel, he first met co-founder Amy while working at a local hospital in Limbe. He is most passionate about educating caregivers and working with children. His extensive experience working with HIV/AIDS children, providing post-disaster psychological support, and even counseling kids living on the street makes him knowledgeable and an expert in his field. While his everyday work is in the education center at the malnutrition treatment center, he loves getting the opportunity to go do home visits, seeing how education and job creation is changing the lives of families.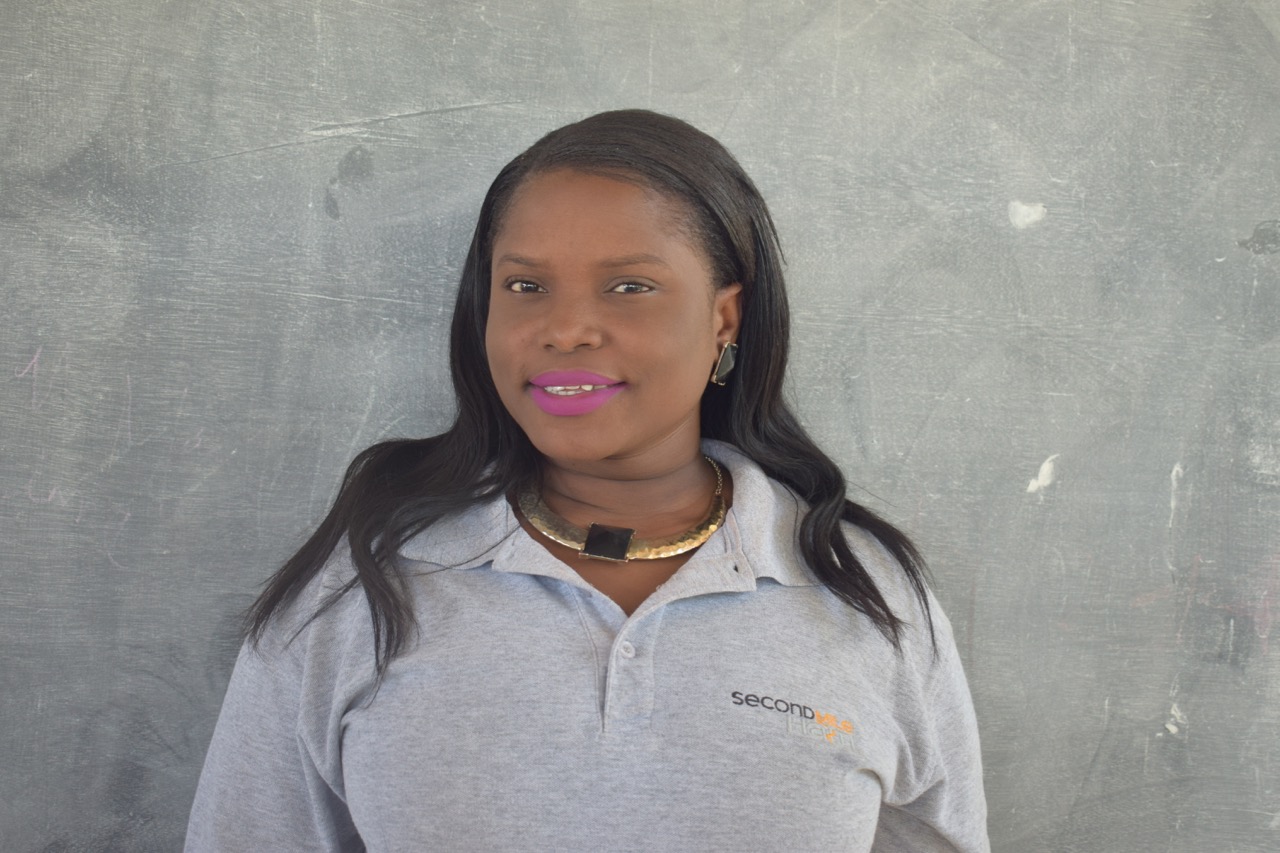 Stael Saintel -
Psychologist
With her background in psychology, Staelle can be found sitting under the large mango tree at the malnutrition center talking with mothers and other caregivers. Her love and passion for educating families came during her five-month practicum with an HIV program, then a three-month practicum at Second Mile Haiti. She believes strongly that educating of children and parents will change the future of Haiti. Originally from the North East of Haiti, she has made Cap-Haitien her home since finishing university. The community health education program is her favorite part of her job- she loves seeing people who come everyday, learn, and put into practice the information to change the lives of their families and communities. Seeing families grow is what motivates her to come everyday with a cheerful attitude, ready to teach and engage.
In her role as an educator, Sheloo is always the first once to start a song or encourage women to get up and dance. She loves working closely with caregivers and their children and being able to watch each family's transformation. She originally received health education training through a Compassion International program in Port-au-Prince, and has built on that knowledge here at Second Mile. One of Sheloo's favorite aspects of her job is being a cheerleader and encourager. She sees women who arrive at the center exhausted and discouraged from watching their children suffer. Sending caregivers home rejuvenated and with more knowledge and understanding keeps her passionate in her work.
Amand Pierre -
Educator Assistant
Ama first met Jenn and Amy when they were looking to purchase land for the malnutrition center in 2010. He knew then that a center like this would have great impact on his community, and he was right! He and his family are neighbors to the center, living right next door with his wife and nine children. He works in the education center, taking attendance, giving responsibilities to caregivers, and even making sure the hand washing stations have soap and water. While he loves working with the families, he says not to forget the impact some basic infrastructure has had on the community: improvements such as solar lights, road improvement, and working to reduce violence. The influence he sees in the community surrounding Second Mile is multifaceted and long-lasting.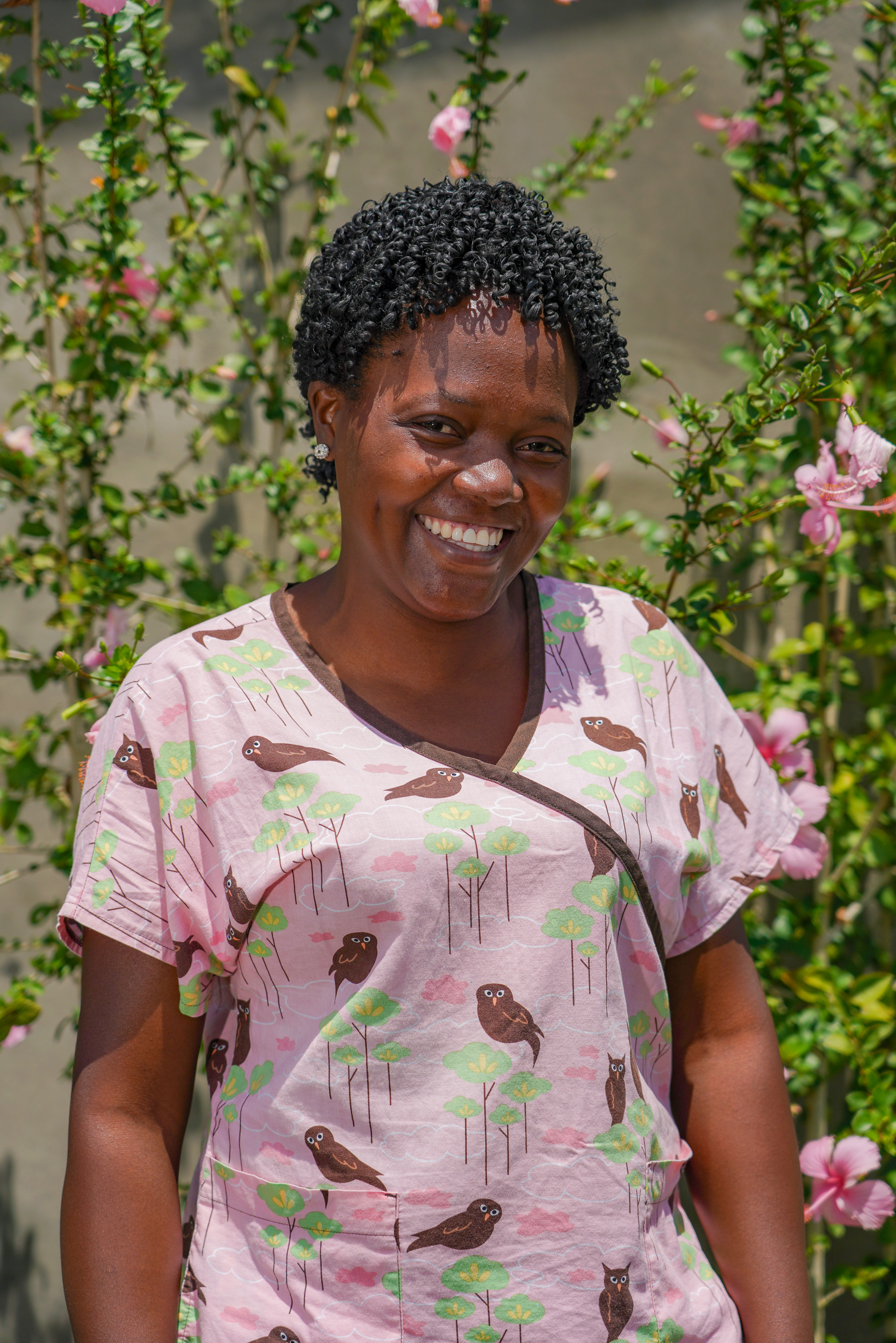 Josephine Cossier -
Lead Nurse Midwife
As a nurse-midwife, Josephine has been an integral part of the Strong Start Maternity Center Team it's opening in March 2018. After graduating nursing school in 2010, she worked at Hopital Convention Baptiste d'Haiti in both the emergency room and the spinal cord injury rehab center. After graduating from midwifery school in Port-au-Prince in 2014, she worked in a variety of locations in cholera relief, primary care, and maternity services. Before joining Second Mile's Strong Start Team, she worked for two years at Hopital Fort-Saint Michel in their maternity department. When she is not working with women and families at the maternity center, she loves being at home with her husband and three children.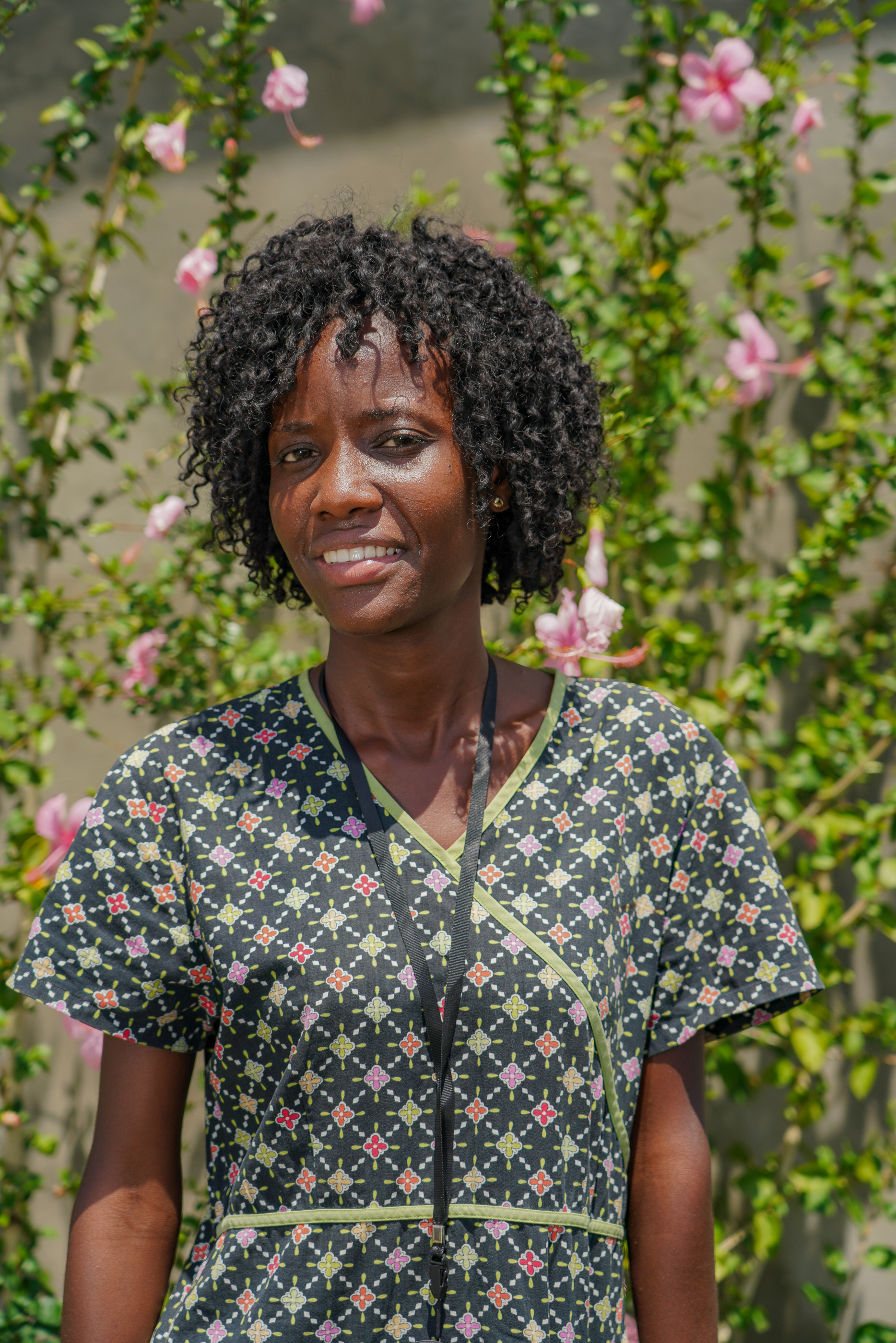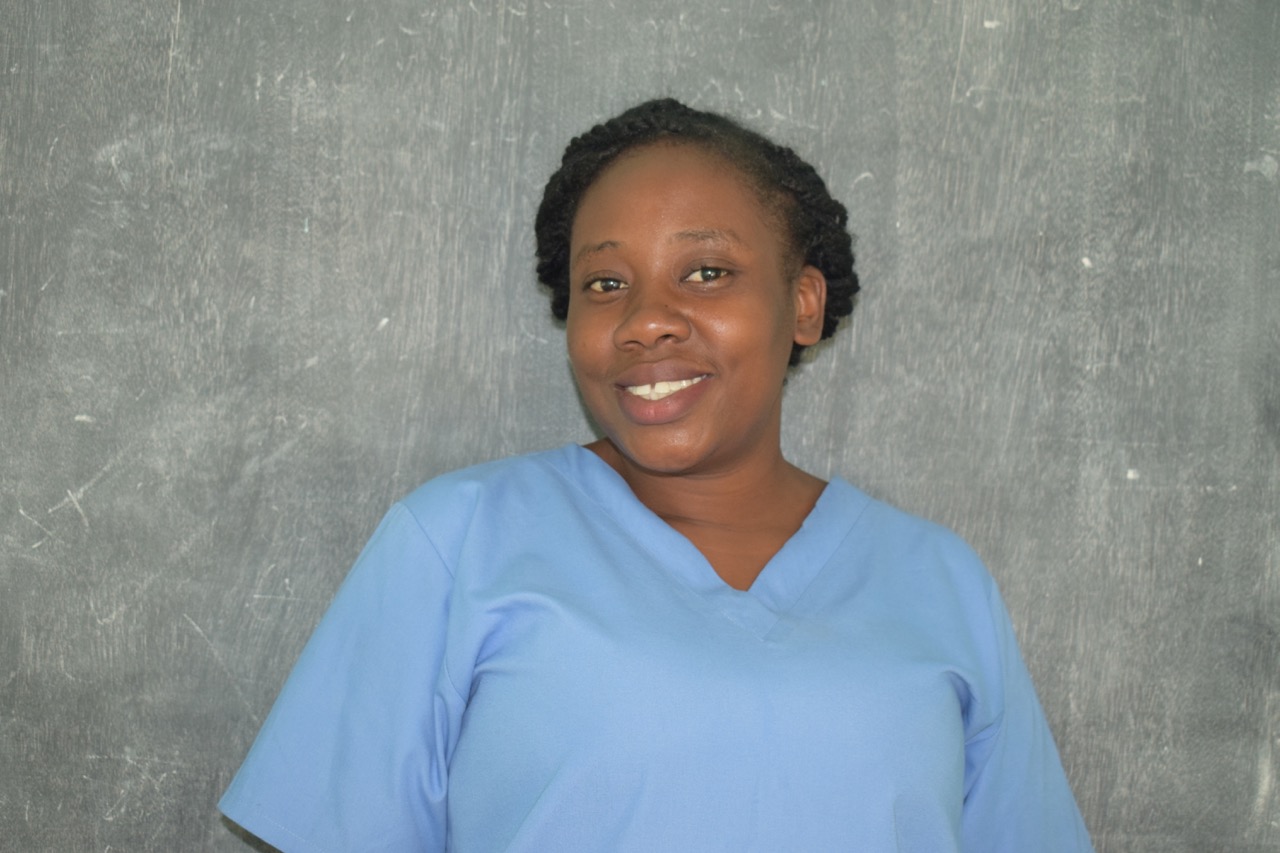 Manithe Saint Pierre -
Midwife
Originally from Gonaives, Manithe moved to Port-au-Prince to complete her degree in nursing in 2013. While working at a hospital in Port-au-Prince, she was deeply impacted by the suffering and indignity that many women face when they give birth in Haiti. Her passion for dignified, high-quality, midwife-led care took her to Hinche, where she was trained as a midwife through the Midwives for Haiti program. After graduating in 2016, she worked in a hospital in Plaissance before interviewing and accepting a job at Second Mile's Strong Start Maternity Center. She loves that every day the Maternity Center is open she sees more and more women coming to receive quality care.
Guerda grew up knowing that she wanted to be a nurse. When she graduated from high school, her family made sure she was able to go to Port-au-Prince and attend nursing school at the Adventist University. When she graduated, a friend told her that Second Mile needed a nurse, so she sent in her resume. While she understood the nature of the work, she really began to understand the impact a nurse can make as she started working here. For some children, they are on the brink of death when they arrive, sick and lacking nutrients. Guerda plays a key role in ensuring all of their healthcare needs are met. Getting ready to have her first child, she has enjoyed getting to work alongside midwives at Strong Start, seeing Mothers come for prenatal care, and then family planning that will empower their families to control the number of children they have and can support.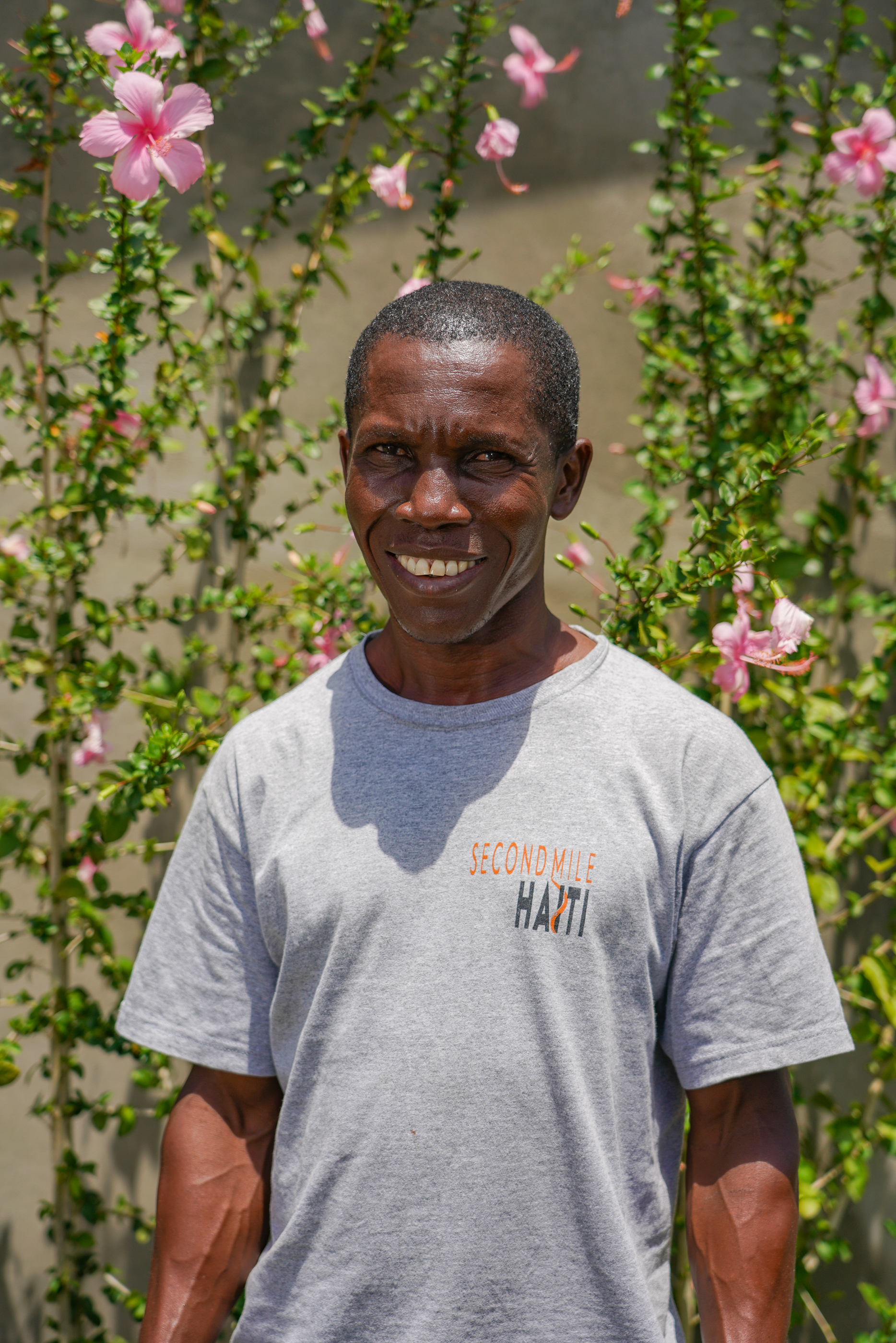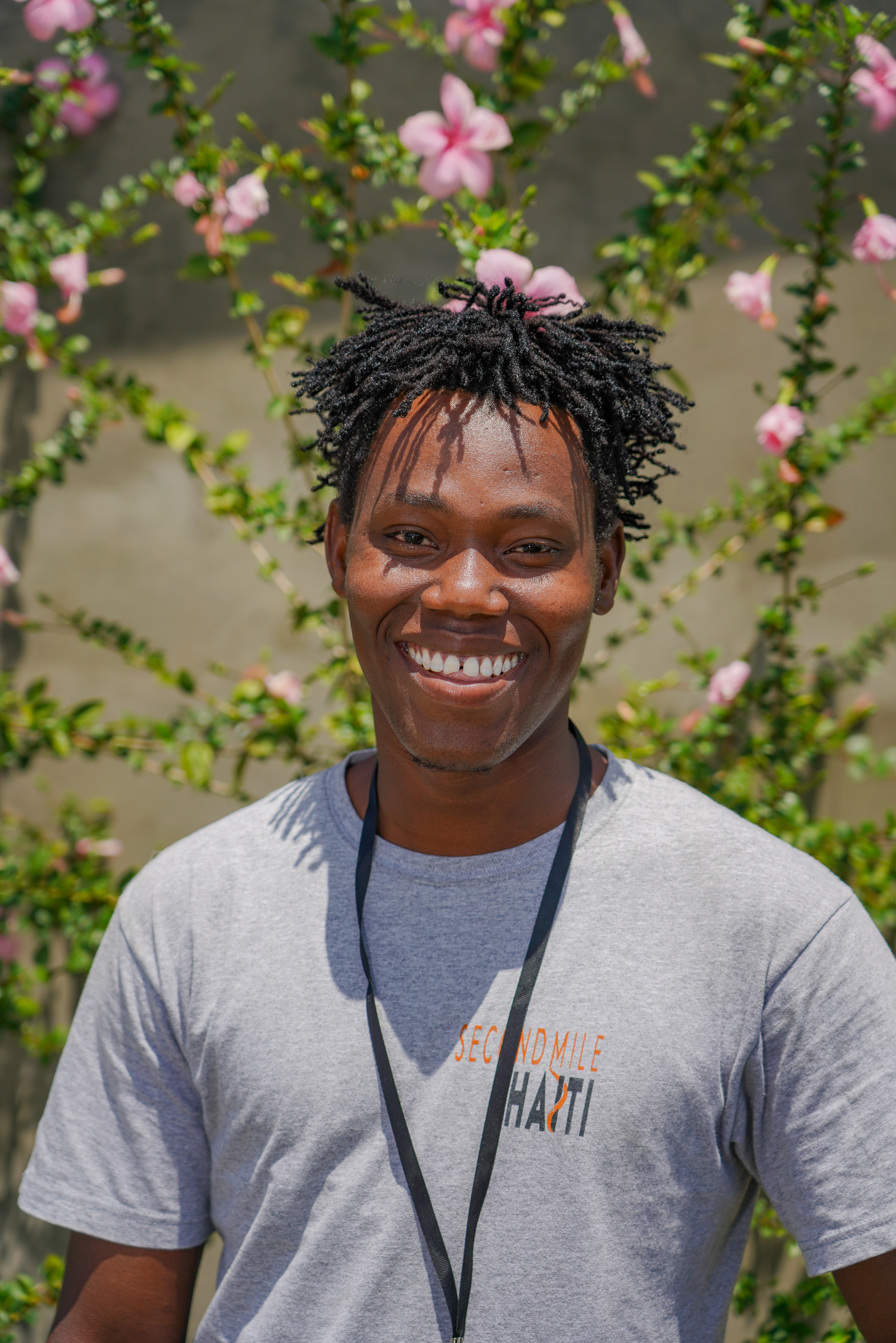 Andy Toussaint -
Logistics Team
After finishing school, Andy went to Port-au-Prince to receive training through Haytrack, and now is proficient in using graters, excavators, and driving large trucks. When you come visit the Strong Start Maternity Center, Andy is the smiling face that will greet you at the gate. He can be seen running errands in the truck, and doing maintenance projects around the Maternity Center. He is also another Second Mile staff that speaks English, so be sure to say hi when you visit!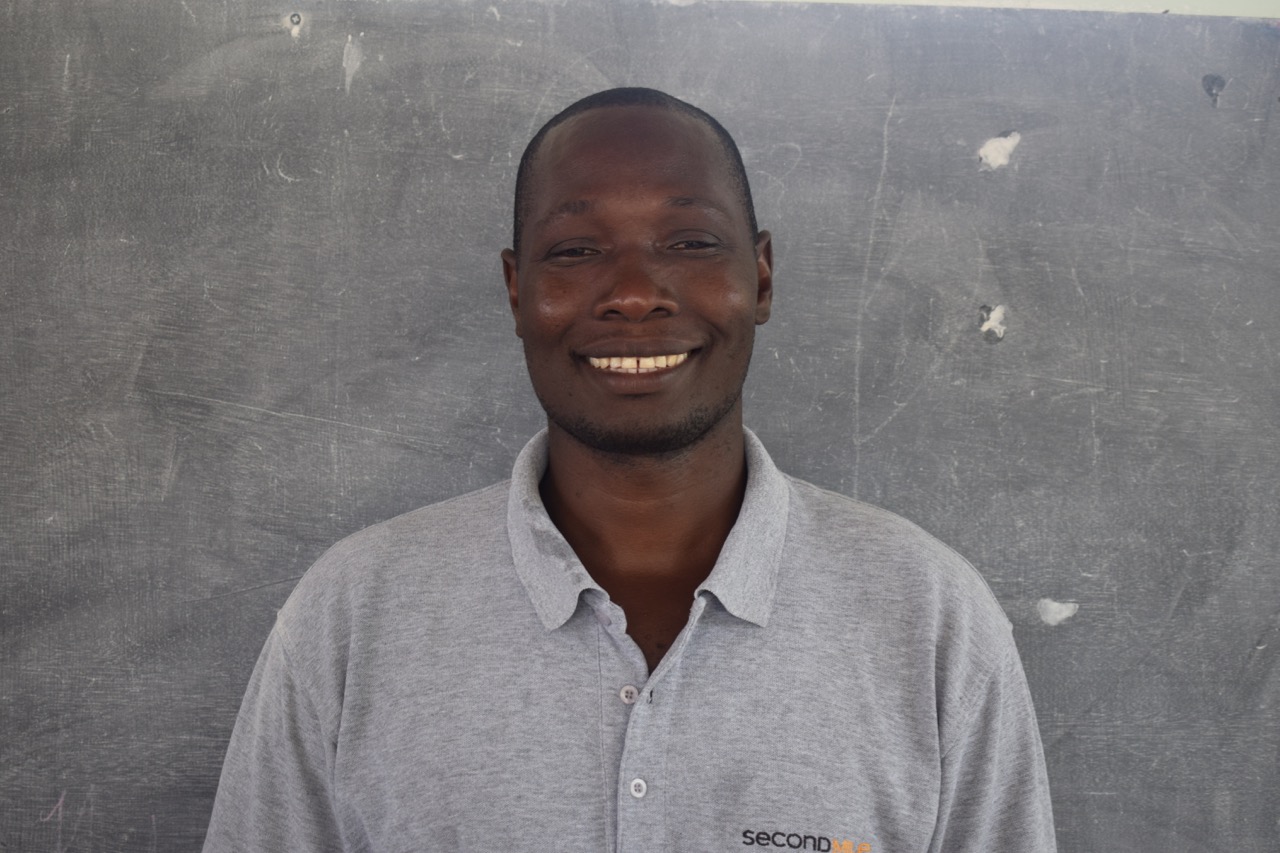 Herode Jean Pierre -
Operations Manager
Each day is quite different for Herode, as we rely on him to grease the wheels of the Second Mile operation. He began working with Second Mile while the malnutrition site was still under construction. He was referred from another employee to begin working with Second Mile and has been an integral part of the logistics team ever since. Initially he drove a motorcycle, running and errands and doing odd jobs. Now he and Jenn work together closely to ensure everything that needs doing gets done. Being from the community, Herode believes that seeing so many previous programs beneficiaries refer friends and neighbors is one of the many ways we see the real impact of the program. Besides working and spending time with his family, Herode is learning english, so if you come visit, make sure to chat with him!
Being from the area, Eric was a part of the Strong Start Maternity Center from the beginning, helping to build the very walls and foundations. His wife and two kids were excited for the Center, but also encouraged to see him get his first stable job. He helps with everything from security to gardening to ensuring the power system is working reliably.
When asked about his job, Peterson says that he is a jack of all trades. He has been praised on his work improving the nearby roads by Northern Haiti's Ministry of Public Health. His first role at Second Mile's Strong Start Maternity Center was helping to dig the foundations, and now he ensures the grass is cut, the road is clear, and works on other maintenance projects. Being from the area, he has loved seeing how the road he helped rebuild is making the lives of everyone in his village better. Peterson's wife received prenatal care at Second Mile's Strong Start Maternity Center in preparation for the birth of their first child.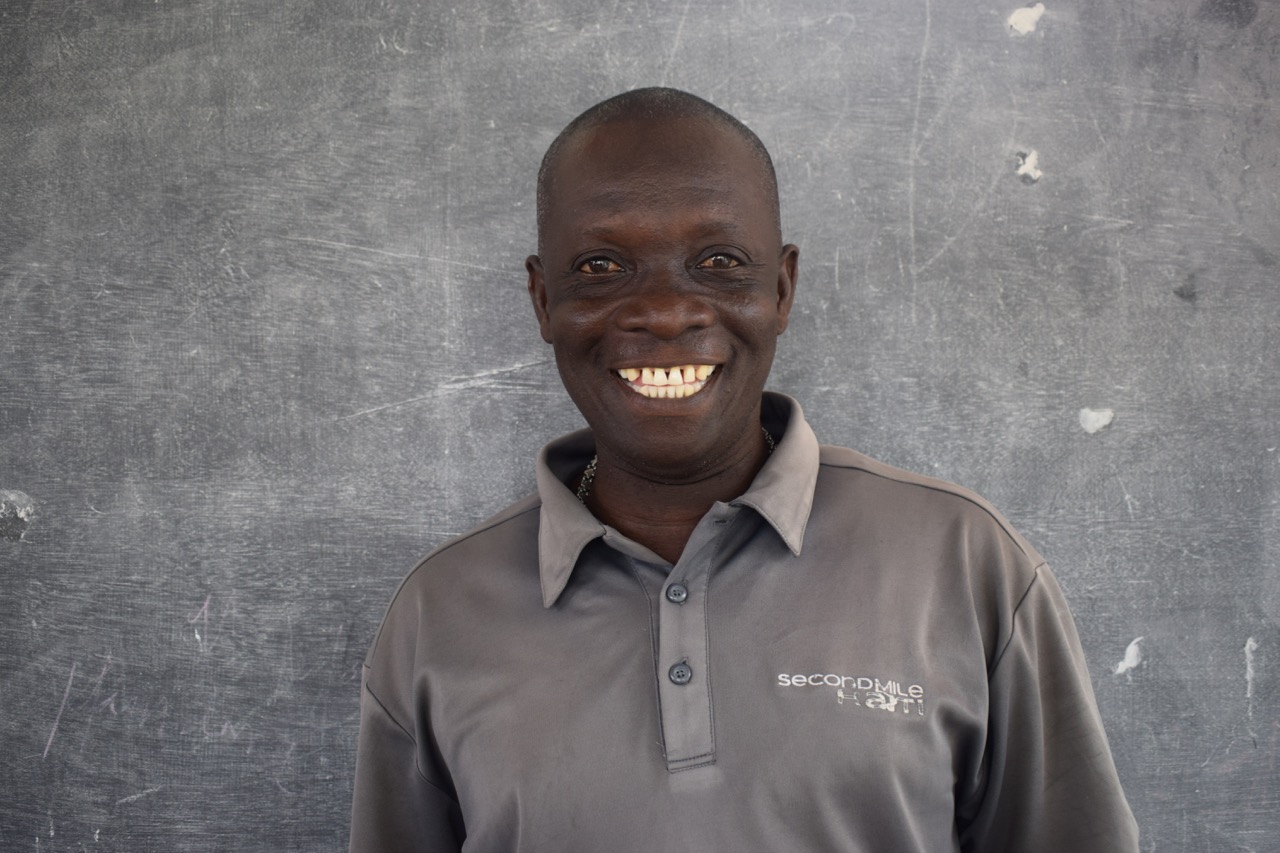 Verdieu Bein Aime -
Chaffeur
Verdieu has worked for Second Mile for six years, and he and his wife live in the community surrounding Second Mile facilities. While his role isn't medical, it is vital to the health of our families. He is known fondly as "Moto Milot," as he can be found driving back and forth to facilities, making sure each family arrives safely to receive care at the local hospital, lab tests, medicine, and anything else that might be needed. He loves working with families and seeing children who were once sick to go home healthy.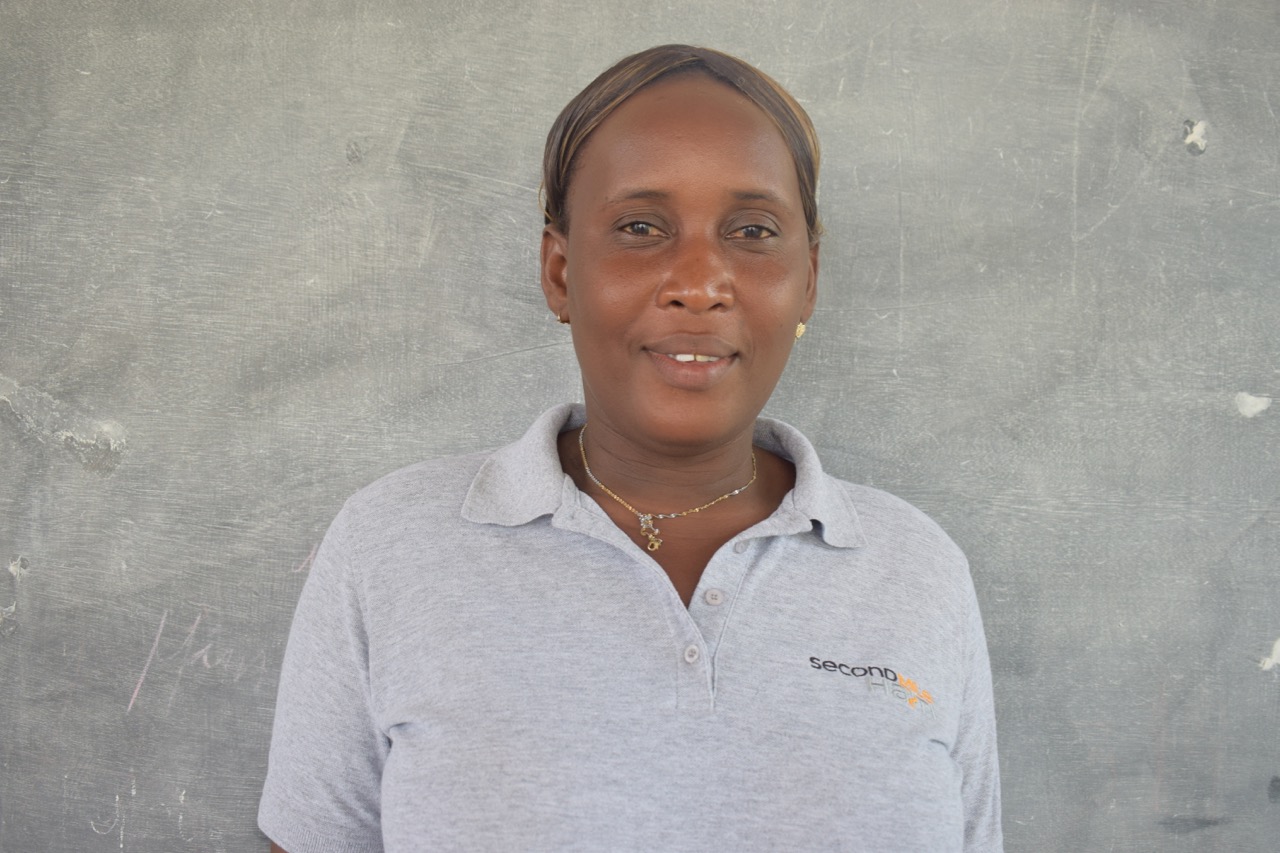 "Gigi's" voice is one all of the Second Mile beneficiaries know, as she ensures that everyone gets fed. She was born in the surrounding community, has two children, and has been with Second Mile from the very beginning. Her family has a business making local liquor, using sugar cane, a prevalent local crop. While she cooks everyday at the malnutrition center, her favorite thing to eat at home is cornmeal with beans, which she learned to make from her Mom. She also plays a key role in making baby food for the center, ensuring Moms have nutritious options to give their kids who are under a year old. When she is not working at the center, she can be found singing in her church's choir.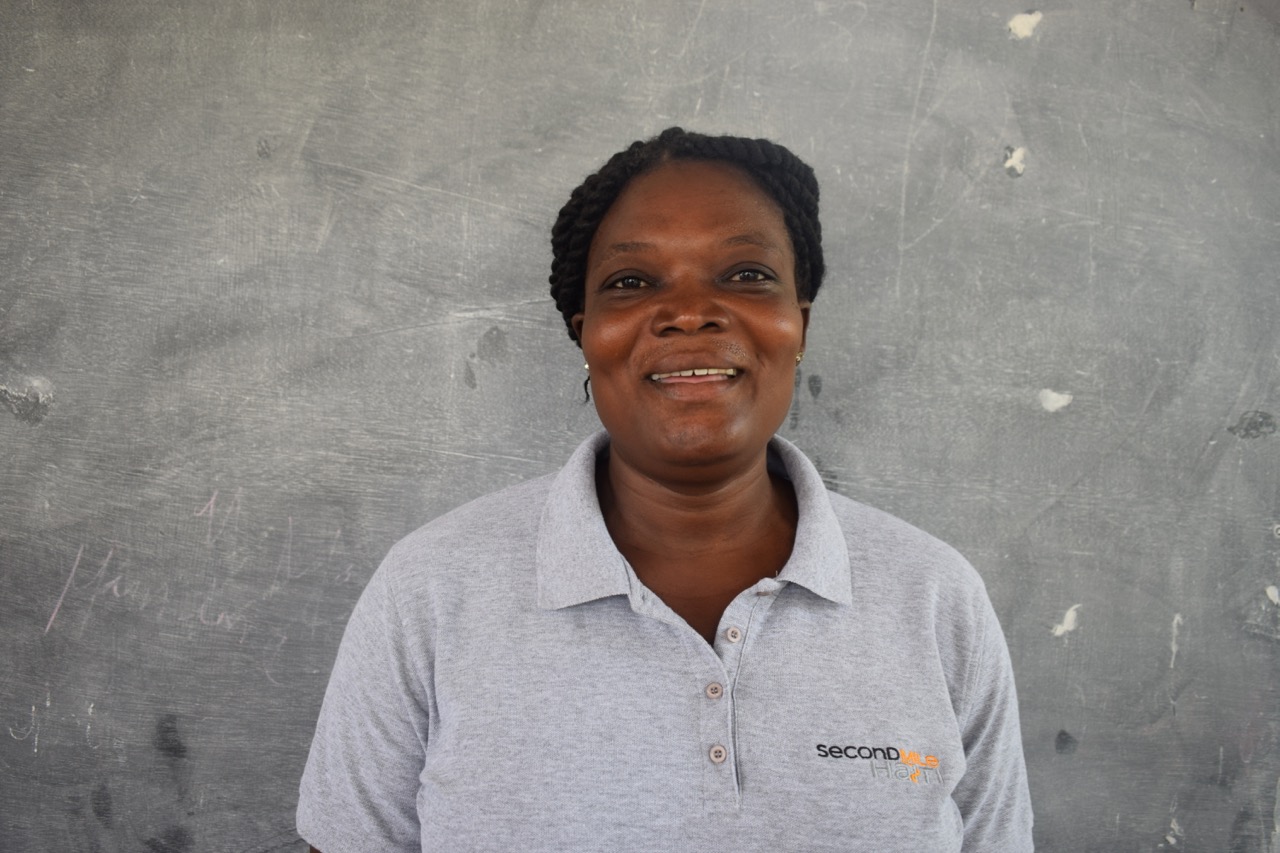 "Magoul" learned to cook from her Mom, which made a job in the Second Mile kitchen a great fit for her. Her family also help run a small shop from their home. Living just down the road makes it easy to get to the malnutrition center to begin cooking bright and early. When she cooks for herself and her five kids, her favorite dish to make is rice and vegetables.
A key part of the logistics team, Jose first met Jenn and Amy while he was working with another nonprofit called Kids Alive. Whether at Second Mile, running errands in town, or being at home with his wife and two kids, he loves to stay busy. He considers himself a hands-on learner, and enjoys learning new things. His experience with Second Mile has broadened his understanding and allowed him to learn more about fixing motorcycles, welding, purchasing in bulk for the business packages for families, and even installing and maintaining the solar system. One of his favorite parts of his job is driving to visit families in their homes and seeing how the business packages are helping families to grow stronger and to send their children to school.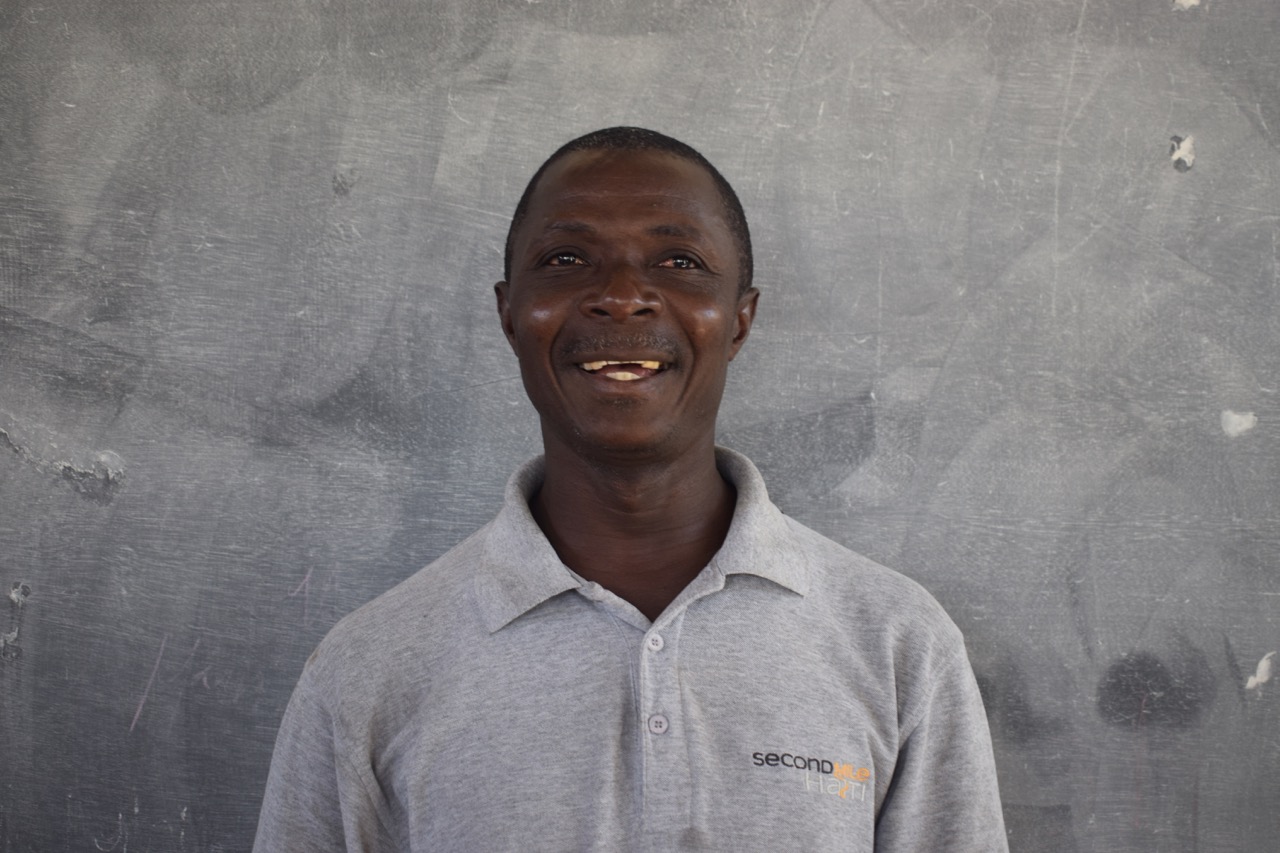 Jocelyn Talcide -
Groundskeeper
Jocelyn has been an important part of Second Mile from the very beginning. He first learned about the organization when he came as part of the team to build the wall surrounding the Malnutrition Rehabilitation Center. He now has the role of keeping the yard clean and beautiful and contributing as part of the security team. His job is not only important for the running of the center, but it supports his wife and nine children. He views Second Mile not as an important part of the community. The changes he has seen in the community are numerous, but one main one is the improvement in understanding of the importance of water and sanitation. His neighbors and family now better understand that its more than just about drinking clean water but also washing your hands, using a latrine, and keeping things clean everyday.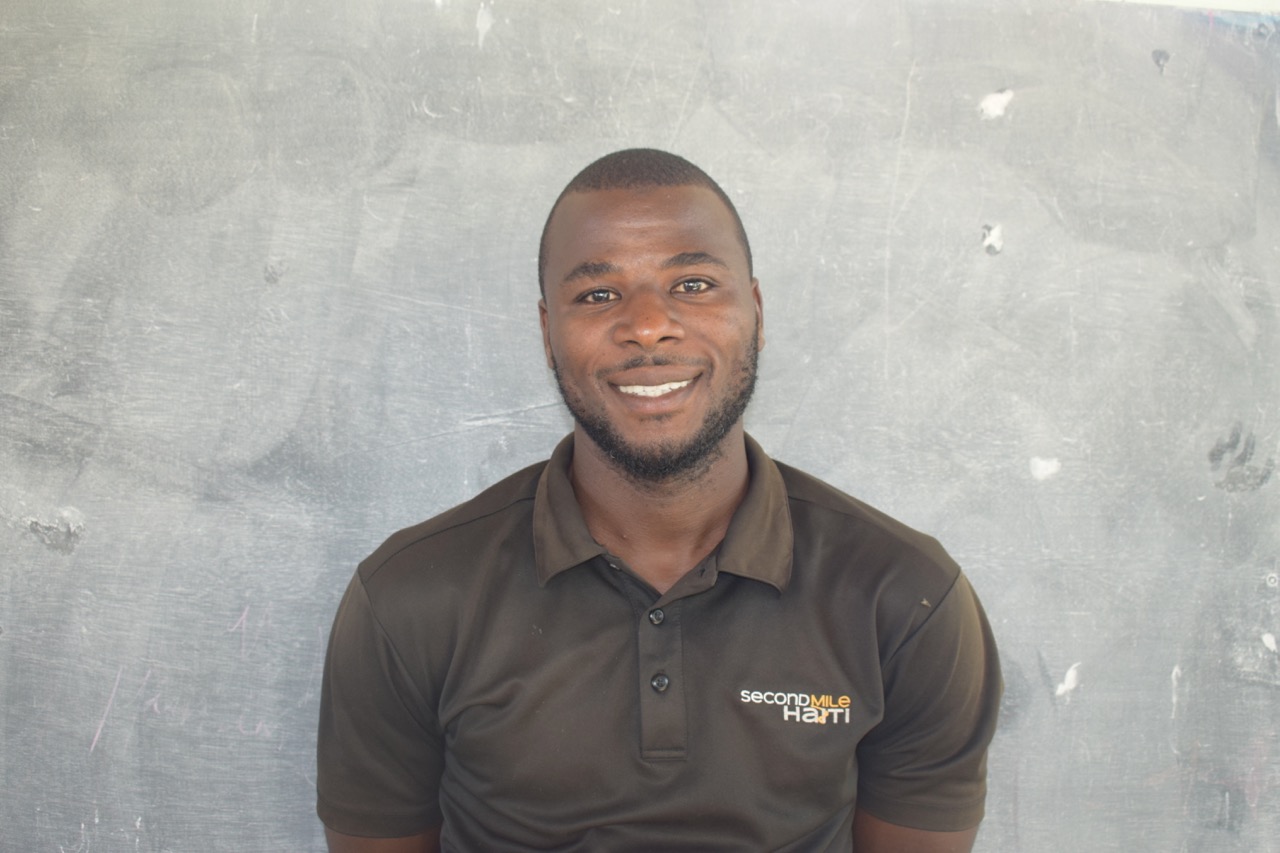 Blaise Roosvelt -
Tou Natirèl Technician
Originally from Fort Liberte, Blaise joined the Second mile team in 2015 after finishing his training in laboratory sciences. He has experience working with a Tuskegee University project, an FDA trial, and the Haitian Ministry of Commerce, using lab tests to evaluate safe, quality foods. During his training, he was president of his class club, communicating with members all over the country regarding training and jobs. Blaise is responsible for making products for Tou Natirèl, ensuring high quality, hard to find products are available to support business grants. He finds his passion in ensuring the products are the best, as they are an essential part of the sustainability of Second Mile. Whether pressing coconuts for coconut oil, making yogurt, or caring for chickens, Blaise's unique role is contributing to the ongoing needs of families in Northern Haiti.
Wesly Pierre Louis -
Garden & Livestock Manager
Being from the local community, Wesley has seen the impact SMH has had on his friends and neighbors. He remembers when SMH was just beginning construction on the first building, which is how he first met Jenn and Amy. His first official role with SMH was working in the yard, and he now primarily works in the garden and with the goats. He loves the times during the year when he gets to see his neighbors come and learn in the community health education program, as educating one person can directly impact their family and friends. With 6 children at home, he stays busy with the SMH garden, as well as his own garden. His favorite part of the day is walking home, counting the goats that he raised at SMH that are now changing the lives of members of his community.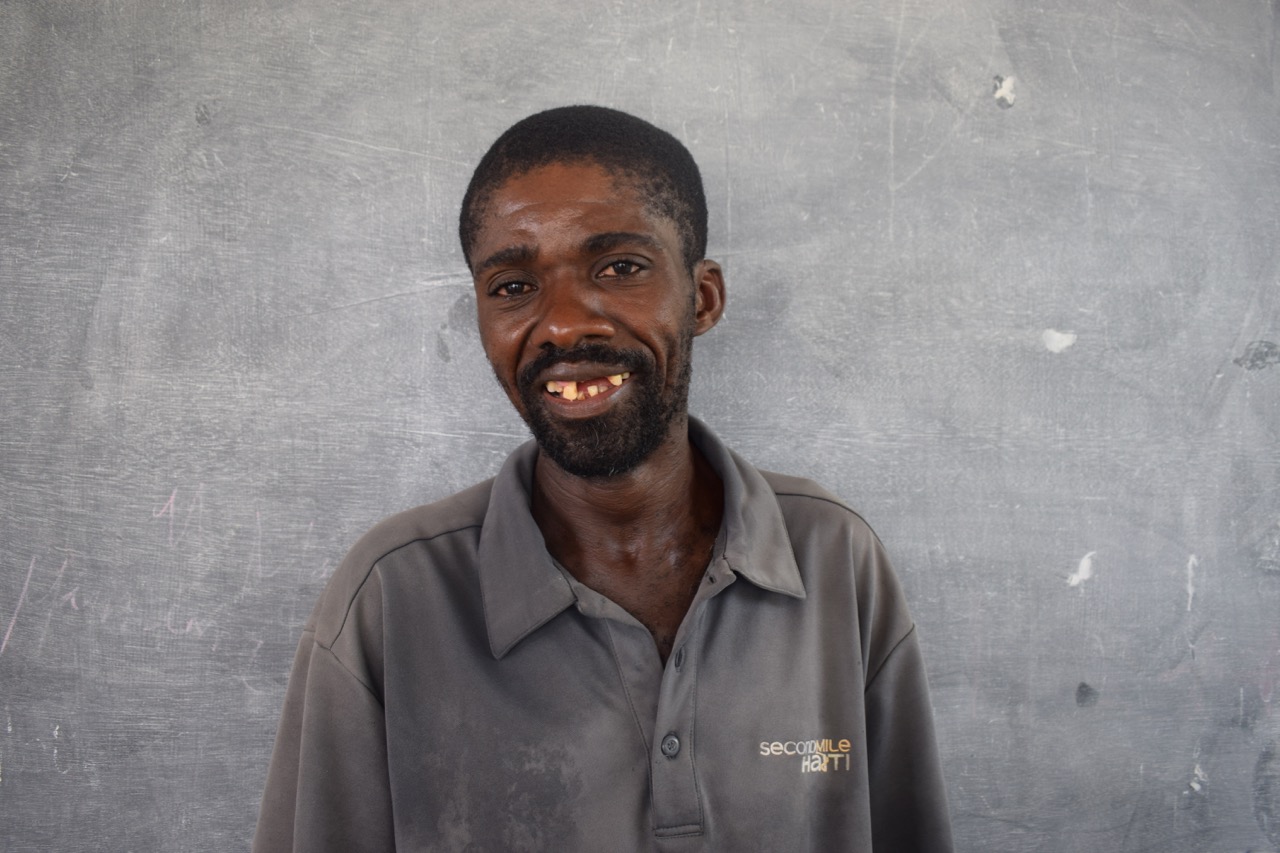 Jean Marie Saint Surin -
Gardener
If you're one of the first people to arrive at the malnutrition center in the morning, you can find Jean Marie taking the cows out to graze. As he makes his way down the road, he rarely meets a stranger, as he, his wife, and three girls all live nearby. His favorite part of Second Mile he likes most is how it educates people who otherwise would not learn important aspects of health and nutrition. For example, although he grew up in a farming family, he did not know just how nutritionally rich moringa is. He now makes sure that Second Mile has plenty of moringa, and even has it growing in his garden at home. He can be found doing the hard work of planting, making compost, watering, and harvesting the Second Mile gardens, ensuring the center has essential foods for families at the malnutrition center.
Joseph Destin -
Project Manager
Joseph is an essential part of the logistics team at Second Mile. He first met our founders while they were working at an orphanage nearby, and officially joined the team in 2012. He started by working in the garden, then began driving motorcycles to do necessary tasks, and now manages some construction projects and takes care of the solar system batteries. Being from a nearby community, he loves seeing how the work at the centers impacts families and children. Besides a steady job that supports his wife and 6 children, he says his role has given him hope. He has seen kids on the brink of death get well and even begin going to school. The everyday change, in families, children, the gardens, and the community, are what he loves about being a part of Second Mile Haiti.